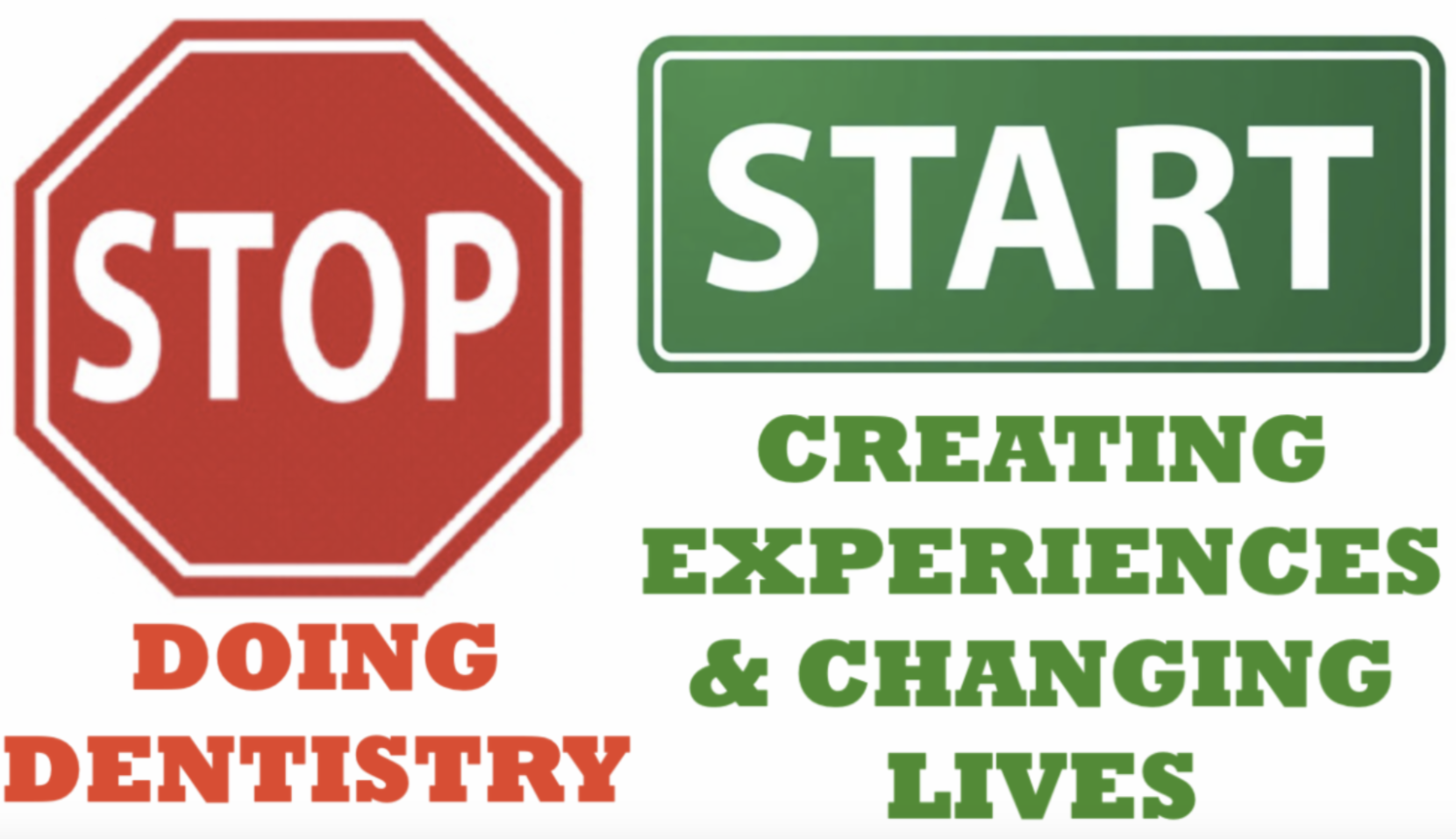 STOP DOING DENTISTRY…START CREATING EXPERIENCES & CHANGING – MAY 2023
Recently, I was asked to speak at the "Leadership Symposium" of a regional DSO. I was thoroughly impressed by the concept of the meeting, and I did see a very well-planned initiative to educate and build teamwork. This group is head and shoulders above most of the other similar groups in our region. The four hours driving home from the event gave me abundant time to process what I had seen and heard.
The leadership of this group is strong, and I love the fact that it is led by a dentist who appreciates the importance of care. There were excellent presentations on clinical topics such as advanced endo diagnosis, virtual orthodontic care, and pediatric hygiene. My presentation was on improved treatment acceptance.
My take-away from the meeting was there was too much talk about doing dentistry to correct dental problems and generating production, and not nearly enough emphasis on delivering care (and caring) for the benefit of patients. During a workshop on teamwork, there was conversation about what motivated the members of the team to want to work hard. The responses were "The office is conveniently located", "I have hours that work for me", "I like the people I work with", "I like that the company has good benefits", "I like to work hard and I don't like to be idle." What was missing for me was that no one said they work hard because they feel appreciated or because they feel they make a difference in the lives of their patients. To me, that means they need to stop doing dentistry, and start to focus on creating memorable experiences for patients and themselves and, in turn, changing lives. They have to stop doing procedures, and begin to focus on why they are performing them…how will they create benefits.
Providing a memorable patient and team experience requires incredible attention to detail. It is constantly evaluating how every experience can be improved for every patient. One of the common problems with improvement initiatives is that the management team responsible focuses on actions and doing, but doesn't give enough focus to the mindset of the rest of the organization. The focus tends to be about performance instead of culture. When change is made this way, it often breeds resentment. When attention is given to culture and personality, there is far greater engagement because the sense of purpose is internalized. When leadership tries to motivate the team, the team often sees it as being manipulative. When the team, instead, BECOMES motivated, they become more invested in success. Zig Ziglar says, "You get the best effort from others, not by lighting a fire beneath them, but by lighting a fire within."
I saw the reaction to this in my presentation on treatment acceptance when I highlighted the team aspect of success in this area. When team is empowered and doctors lead by example, the team becomes willing to nurture the success through teamwork. When I spoke about the need for coordinated communication between doctors and hygienists, and doctors and treatment coordinators, there was a resounding joint sigh that the doctors should be a part of the conversation. If the doctors and management want better treatment acceptance, they would be best served by participating in the process TOGETHER. Organizations often think they are involving their employees in change initiatives but, actually, they are just telling them about the changes planned. A culture of continuous improvement requires your employees to be properly involved in the thought of the change.
This is the reason why our Smile Potential approach to practice growth works so well.  It is coordinated between all departments and all of the members of the team. It is dependent on the creation of total clarity of expectations and gaining commitment to systems prior to action.  It focuses on simultaneous development for a common purpose. It is fueled by positivity, opportunity and appreciation, instead of blaming and pointing fingers. It is about everyone on the team adopting the philosophy that "It is never not my job".
Kaizen is the Japanese word for a strategy where team members in every role work together proactively to achieve regular, incremental improvements to delivery of care. In our offices it should be based on promotion of teamwork, trusting individuals' personal discipline and work ethic, constantly trying to improve morale, and a willingness to accept suggestions for improvement. For the organization I met with recently, this would mean giving credibility to the teams' suggestions that doctors participate in their "team approach" to improving treatment acceptance. It would include an emphasis on the doctors and management giving effusive praise for the effort to improve consistency and overall quality of care delivery. This comes from putting a stop to doing dentistry and, instead, focusing on becoming transformational by delivering patients the benefits of care and giving the team the fulfillment of helping to improve the lives of their patients. It's about stopping the delivery of dentistry and the embrace of delivering experiences that benefit everyone.
If you would like to find out more about how Smile Potential Coaching can help you create better experiences for patients, team, and doctors,
send us an email at coaching@smilepotential.com or call us at 516-599-0214.
SAVE THE DATE – SPECIAL MARKETING WEBINAR
During COVID, Kelly and I conducted many webinars for your benefit. More recently we have limited our programs to when we feel we can really help you make a major impact on your practices. This is one of those times. We have scheduled an evening webinar on Wednesday, May 31st with Mr Abe Kasbo. Abe is a highly respected marketing expert who consults with many of the largest dental companies and hundreds of dentists around the country. His take on promoting your offices is very actionable. Successfully driving patients to your practices is not about self-centered spraying and praying, or saturating Social Media, but rather, it is about delivering a message that resonates with prospective patients to let them know that they should absolutely reach out to YOUR office because YOU provide THEM with something THEY WANT in a way THAT IS BETTER than what they could get elsewhere. It is about being innovative by thinking outside the box in creating a more compelling message. If you truly want your practices to grow by attracting more new patients, "It's Time Get Real With Dental Marketing" and tune into this program on Wednesday, May 31st at 7:00 pm.
You may register below.