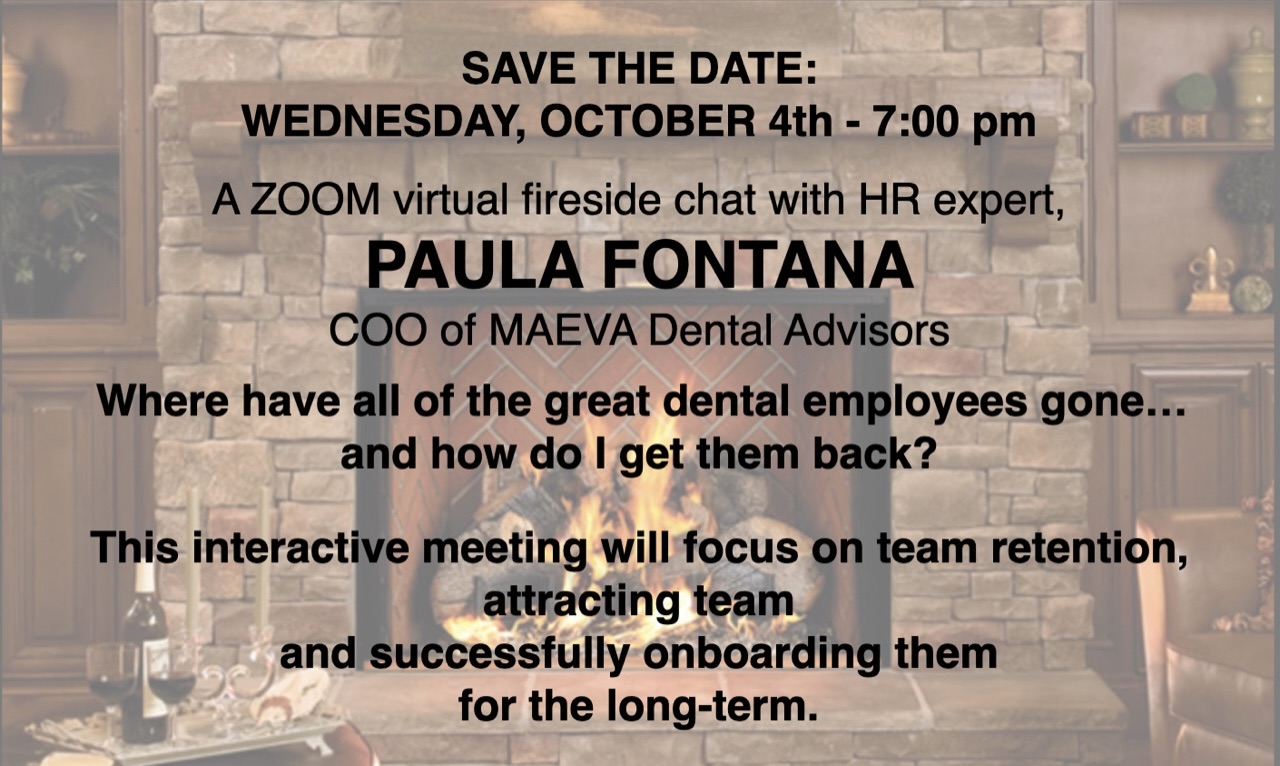 WEBINAR: WHERE HAVE ALL OF THE GREAT DENTAL EMPLOYEES GONE? HOW DO I GET THEM BACK, AND RETAIN THEM?
MEETING ID: 863 8014 3023
PASSCODE: 951481
The biggest challenge that many practices have faced this year is retaining the members of their teams, and finding replacements, when necessary. Our Zoom program the evening of Wednesday, October 4th (7:00 pm ET) will give you the answers to both challenges. We are very fortunate to introduce a true expert in this area, Paula Fontana, the COO of MAEVA Dental Advisors.
| | |
| --- | --- |
| Paula has over 25 years of experience in leading recruiting and HR functions in a wide range of industries including Dental. She held roles as both the Head of Talent Acquisition and the Director of Learning and Development for 3 global organizations. In addition, she built a staffing company and hired hundreds of people in her recruiting career. More recently, she has spearheaded dental recruiting through MAEVA Dental Advisors. She is a wealth of knowledge and experience that can be extremely helpful and actionable for all of you in your practices. During this program she will be happy to offer personalized advice to our doctors on the call that will be a benefit to everyone listening.t Lin | |
Team attraction, onboarding and retention are three of the most critical challenges we face now in dentistry and Paula Fontana is a brilliant voice to offer advice and suggestions to all of you in these areas. If you would like to participate in this Zoom meeting please use the link below to join.
We look forward to seeing you on Wednesday evening, October 4th at 7:00 pm (ET) for this incredibly relevant program.
MEETING ID: 863 8014 3023
PASSCODE: 951481