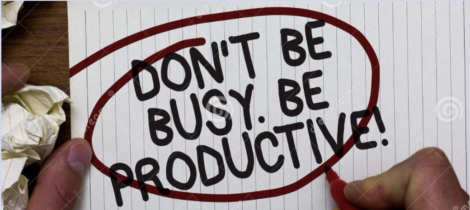 DON'T BE BUSY, BE PRODUCTIVE – JUNE 2021
I remember how much my wife and I used to look forward to going out to eat at one of our favorite restaurants. The owner would give us a great greeting and ask us how our family and friends were. The hostess would ask us which table we preferred. The waiter described the specials from off the menu that would make our mouths water. The chef would prepare our meal "to order" and accommodate some of the substitutions that we requested.
During the pandemic this restaurant had to find a new way to survive and developed a robust takeout and delivery business. The volume of the food they prepared ended up not being much different than what they used to prepare on a typical busy evening. When winter turned to spring, this restaurant was easily able to accommodate the limited outdoor diners and a few who were brave enough to dine indoors.
Now that all of the restrictions have been lifted, this restaurant, and others like it, are trying to figure out how to satisfy a full load of indoor diners, in addition to the patrons who enjoy the new outdoor seating, and the many more takeout customers who learned to appreciate their food taken home to enjoy at their own dining room tables. But this busyness is not all good. What we noticed recently was that there were more parties waiting at the hostess stand for longer than they ever had before…and they were complaining and not happy. It was taking longer to turn over tables due to a shortage of bus boys. The waiter was not able to spend as much time describing the specials because he was handling more tables than before. The food took longer to prepare because the capacity of the kitchen had not changed and the number of food preparers was still not at full capacity. More customers were complaining that their food took too long and others were sending food back to the kitchen because it was not prepared to their liking, too well done, or not cooked enough. It has gotten so bad that my wife and I will not return to this restaurant until these kinks are ironed out. We are not alone, because we see there have been others who have given the restaurant less than stellar reviews online.
Busy people say they don't have the time.
Productive people make the time.
We see the same thing happening in dental practices. When there were still some limitations on how many patients we could see during Covid, the patient load expanded to meet the time allowed. Many patients delayed their return due to continued apprehension. There was a challenge from team shortages secondary to the pandemic. While most teams are now approaching full staffing, the increased patient load from confidence and relaxed restrictions has created some backlogs in office schedules. We see many practices now with full schedules and long waiting periods for patients to make appointments. The extended wait for first appointments has resulted in an increase in broken appointments from a loss of interest, or impatience. Some offices are double booking and even triple booking to try to accommodate the flow. The result is that patients are not receiving the same quality experience and there is insufficient time necessary to create a strong relationship with their dental care-givers. This results in lower treatment acceptance. This has also resulted in some less than stellar online reviews affecting future new patient flow. Many patients have switched practices during this period.
The lesson learned from these occurrences is that it is better to schedule strategically for improved patient experience, and not for sheer busyness. Block scheduling maintains places for new patients to be inserted in the schedule without having to wait or lose their enthusiasm. This is an ideal time to switch to having the doctors see new patients first to begin the establishment of a stronger relationship with the doctor. In the practices where stronger relationships are created with the doctor, there is a shortening of the cycle of trust and patients are more likely to accept more comprehensive treatment earlier in the relationship. The goal is to work smarter, not harder. Achieving greater comprehensive treatment acceptance enables doctors to schedule fewer, but longer and more productive appointments, which increases the level of fulfillment while lessening the exhaustion factor. Don't be busy. Be productive.