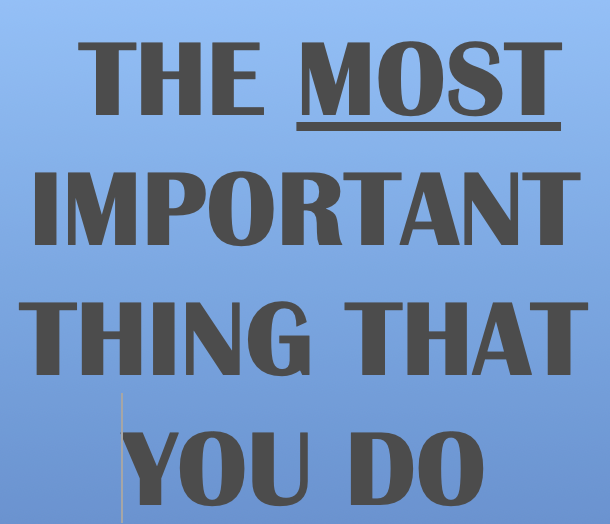 THE MOST IMPORTANT THING YOU CAN DO – APRIL 2022
April is Oral Cancer Awareness Month. If you do not routinely provide an Oral Cancer Exam at the highest level, please make this the month that you (Hygienists AND Doctors) begin doing so. In any visit to your office, this is "The MOST Important Thing That You Can Do" since it has the potential to save someone's life.
THE MOST IMPORTANT THING THAT YOU CAN DO

In early November 2019, I was observing in a client office in Manhattan where we had recently emphasized the importance of doing a superior Oral Cancer Screening on ALL hygiene patients and supplementing it with an adjunctive device, the Bioscreen. The hygienist in that office called me into her room to ask if an abnormality that she had seen under the tongue of a patient was of concern. I agreed with her and she brought it to the attention of her doctor when he came in for his "hygiene check". The dentist was also concerned with this area and sent the patient directly to an oral surgeon in his building for a consultation. The following week this dentist and hygienist received a report from the oral surgeon that described that the patient had a diagnosis of Stage 3 Oral Cancer and would be undergoing surgery and radiation treatment.

This was the best case scenario for this visit and the oral surgeon subsequently came to their office a month later to state, unequivocally, that this Hygienist had saved this patient's life.  Happily, this patient had very successful treatment and has just celebrated his two year anniversary of being cancer-free.

What would have happened had this hygienist not detected this abnormality? Well, remember that this, and all other offices, were closed six months later due to COVID. And six months after that, there still may have been some reluctance to go back for "just a cleaning". What would this patient's outcome had been if their next visit to the dentist were not until the Spring of 2021? It's a fearful thought.

Keep in mind that in 2020, there were over 65,000 people in the United States diagnosed with Oral Cancer. While 90% of oral cancer patients are still over the age of 40, the fastest growing segment of the population with this diagnosis is now young men and women due to the prevalence of the HPV virus. Therefore, it is of utmost importance that we begin screening our patients when they are in their teens, with parents' consent. As dental professionals, we are absolutely on the front line in this battle. We used to have some perfunctory help in this area from physicians, but most patients report that their physicians have been insisting that they keep their masks on, and they have not even looked in their mouth at all in over two years.

The MOST important thing that we can do in our practices is to potentially save someone's life from the ravages of oral cancer. We can do this by incorporating the MOST thorough Oral Cancer Screeningpossible each and every time the patient sees our hygienists. It only takes a couple of minutes to be done properly, but it can preserve someone's life for decades. Smile Potential's Hygiene Coaches can help your hygienists develop a system for performing this level of a screening for oral cancer. We recommend the Bioscreen as a very valuable adjunctive device. While the digital and white light exam is still our first line of defense, a device that adds enhanced visualization of epithelial changes through the use of biofluorescence can be of tremendous value. We can direct you to Addent, for information about the Bioscreen, (

Jamie@smilepotential.com

) if you are interested. We also recommend that doctors and hygienists "brush up" on the quality of their Oral Cancer exam by watching any number of well-produced videos on YouTube.

Recently, I was introduced to Dr. Parul Makkar. Her brother was Dr Manu Dua, an incredibly accomplished and, still even more promising, young dentist who was diagnosed with Oral Cancer at the age of 33, and who passed away from this deadly disease at the age of 34. Dr. Dua, during the months between his diagnosis and passing, wrote a series of essays that gave his incredible perspectives on life, hope, suffering, mortality, and peace, that only someone facing their own mortality can offer. These essays were compiled in a book published by Dr Makkar, and authored by Dr. Dua, "Life Interrupted". It is the most impactful and thought-provoking book that I have read in a very long time and I highly recommend that all dental professionals read this book to gain some of Dr Dua's perspectives.

Most importantly, make this April the month that you make a commitment to providing the service of a most thorough Oral Cancer Screening for every one of your patients. You may also offer this service to the friends and family of your patients during the month of April as a way to make an introduction to potential new patients. This is a service that differentiates your practice from others in your area, as differentiation is one of the greatest keys to success in the current environment of competition.