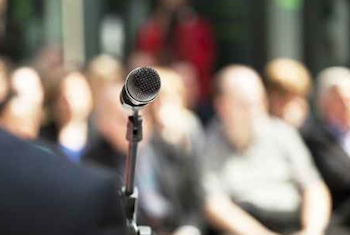 In ancient Greece, Socrates was highly respected for his wisdom.  One day the great philosopher came upon an acquaintance, who ran up to him excitedly and said, "Socrates, do you know what I just heard about one of your students…?"
"Wait a moment," Socrates replied.  "Before you tell me I'd like you to take a little test, the Test of Three.  Before you talk to me about my student, I'd like you to test what you're going to say.  The first test is Truth.  Have you made absolutely sure that what you are about to tell me is true?"
"No," the man replied, "actually I just heard about it."
"All right, said Socrates, "So you don't really know if it's true or not.  Now let's try the second test, the test of Goodness.  Is what you are about to tell me about my student something good?"
"No, on the contrary…"
"So," Socrates continued, "you want to tell me something bad about him even though you are not certain it's true?"
The man shrugged, a little embarrassed.
Socrates continued, "You may still pass because there is a third test, the test of Usefulness.  Is what you want to tell me about my student going to be useful to me?"
"No, not really…"
"Well," concluded Socrates, "if what you want to tell me is neither True, nor Good, nor even useful, why tell it to me at all?"
The man was defeated and ashamed and said no more.  This is one of the reasons that Socrates was a great philosopher and held in such high esteem.  Some may argue that it also explains why Socrates never found out that Plato was having an affair with his wife, but that is not our concern.
What is our concern is that gossip, useless, negative, and often, untrue conversation is one of the most destructive forces in many dental practices today.  It destroys the culture of a practice and divides the team.  When interviewing prospective team members for practices it is often discussed how caddy, gossipy behavior is frequently a reason for good team members wanting to find alternative employment.  Desirable team members crave mutual respect from doctors and team members, alike. Tolerating gossip sends a message to team members that personal agendas are acceptable and that it's every man (or woman) for themself. Doesn't this seem contrary to the goal of attaining superior teamwork?
Eleanor Roosevelt said, "Great minds discuss ideas.  Average minds discuss events.  Small minds discuss people."
When we detect gossip in a practice we recommend a strategy of "Zero Tolerance".  In last month's newsletter, we discussed the concept of motivation being dependent on the premise that we increase desirable conditions and decrease undesirable conditions for a team member.  Eliminating gossip accomplishes both.  When we forbid gossip we tell our team that they will not be disrespected.  We also let them know that since conversations about them will not be permitted, we will also not allow them to speak negatively about others.  This creates an environment of safety and positivity.
Here is the policy that we have adopted in many practices, including our own:
"THERE IS NO ACTIVITY THAT DIVIDES A DENTAL TEAM AND DESTROYS THE CULTURE OF A PRACTICE MORE THAN GOSSIP.  NO QUALITY TEAM MEMBER LIKES TO WORK IN AN ENVIRONMENT WITH GOSSIP.  GOSSIPING WILL NO LONGER BE TOLERATED IN OUR PRACTICE.  FOR THIS REASON WE ARE ADOPTING THE FOLLOWING POLICY:
It is against the policy of this dental practice to speak negatively about any other member of the team unless that person is present and participating in the conversation.  Communication between team members is encouraged when there is a difference of opinion.  If a resolution cannot be achieved between differing parties, then the office manager or the dentist / or one of the dentists, may be enlisted to facilitate a discussion.  Under no circumstance will one individual be able to complain about another to another team member, including the office manager or dentist(s), unless they are present.  If this behavior is detected there will be 4 possible consequences.
First offense – a warning will be given
Second offense – individual will be sent home for the remainder of the day, without pay.
Third offense – individual will be sent home and instructed not to return for a period of one week with no pay for that period of time.
Fourth offense – individuals employment may be terminated"
Some may say that this policy is extreme, but I will argue that not having a policy is obscene.  Don't get caught up on the specific consequences.  Modify it and develop your own.  But, without a doubt, if there is even a minutia of destructive conversation going on in your hallways, in sterilization or behind closed doors in your "staff" rooms, this policy, in some form, is a necessity for your practice, immediately.  And don't worry about losing an entire team.  When the policy is followed, it rarely has to be enforced more than once because everyone "feels" the benefit and those in need of gossiping will either, "get on the bus" or buy a ticket to an alternative practice where destructive gossip is tolerated.  When it comes to gossip, "You don't say!"
For more information about this "No Gossip Policy" or for a copy of a Policy Form that can be adopted for your own practice, please call 516-599-0214 or send an email to SmilePotential@aol.com.